ESKIMO NEWS
Aeroplane's 500th Essential Mix for download

They almost didn't make it to Liverpool in time due to the volcano, being stuck in the States after Coachella (*), but luckily they got there just in time. You can download the 500th Essential Mix by Aeroplane from Soundcloud.


(*) Looks like they totally killed it over there! Click read more to check out some of the ace Aeroplane @ Coachella movies we stumbled upon.


Aeroplane myspace - facebook



Bottin is one of the new masters

Around this time, Nang Records is releasing the compilation 'The New Masters: Bottin', a compilation of remixes Bottin did for beau monde such as Tosca, Lindstrom, Kotey, In Flagranti, Telonius and many many more. Check it out! To hear his remix for Lindstrom just hit 'read more'.

You can still buy his latest Eskimo EP on vinyl or digital.


Bottin website - facebook - myspace



Party calendar

Looks again like you will be able to party to Eskimo artists where ever you may live around the globe...

ILYA SANTANA
May 1 Sass music club, Vienna

DOWNTOWN PARTY NETWORK
Apr 30 360, Dubai

AEROPLANE
Apr 29 Kaufleuten, Zurich
May 1 The Nerve Centre, Derry
May 2 Stiff, Belfast

BOTTIN
Apr 28 TRIPLE CROWN, San Francisco, California
Apr 29 SHOCKWAVES, Los Angeles, California
Apr 30 WRONG BAR, Toronto
May 1 VELVET SPEAKEASY, Montreal, Quebec

PRINS THOMAS
Apr 30 Dissonanze, Club 26, Rome

LINDSTROM
Apr 30 The Fix, Bergen, Hordaland

Hang loose!


Aeroplane mix the 500th Essential Mix!

We're very proud to announce that Eskimo artists Aeroplane have been voted by an expert music industry panel to mix the 500th Essential Mix on BBC Radio 1. Congrats guys!! Tune in here to hear their mix.

And there's more good news, we can finally announce that their long awaited debut album 'We Can't Fly' will be released on Eskimo in September. More news soon!


Tracklisting:
1. Aeroplane - We Can't Fly
2. OTP PArty Breaks #1 - Lifetime Groove
3. Radiorama - Vampires ( Remix )
4. Marta Acuna - Dance, Dance, Dance
5. Lucio Battisti - Ancora Tu
6. Aphex Twin - IZ-US
7. Friendfly Fires - Paris ( Aeroplane Remix )
8. Flight Facilities - Crave You
9.Human League - Don't You Want Me
10. Black Van - Yearning
11. Les Rythmes Digitales - Sometimes
12. Casco - Cybernetic Love
13. Fox The Fox - Precious Little Diamond ( Shep Pettibone Remix )
14. Patrick Cowley - Right on Target
15. Goldfrapp - Alive ( Joakim Remix )
16. Lime - Unexpected Lovers
17. Children of the Mission - Tears


Aeroplane myspace - facebook


Who will be the 500th dj?

Who will be the 500th dj?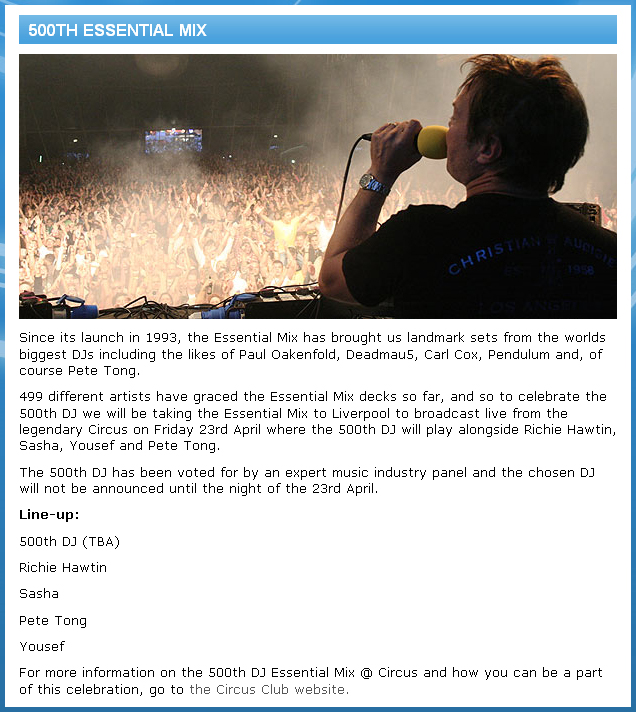 Eskimo artists on the road

Earlier this week Aeroplane sent us a short message "We can't fly", as they were stuck in LA after their Coachella gig due to volcano ash in the air. But now they're back in Europe and ready for this week's gigs!

AEROPLANE
Apr 24 Dj Mag, Sofia
Apr 25 Shark, Thessaloniki

BOTTIN
Apr 22 LITTLE FIELD, NYC, New York
Apr 23 EVIL OLIVE, Chicago, Illinois
Apr 24 COSMOS/HOLOCENE, Portland, Oregon

DOWNTOWN PARTY NETWORK
Apr 23 Dangaus Skliautas, Druskininkai

PRINS THOMAS
Apr 23 Tunnel, Milano
Apr 24 Locomotiv, Bologna

Have fun!



Bottin remixes Sally Shapiro

Bottin recently did a remix for Sally Shapiro, he reworked her track 'My Fantasy'. You can find more info about it here.

You can still buy his latest Eskimo EP on vinyl or digital.


Bottin website - facebook - myspace



<Previous 1, 2, ..., 103, 104, 105, 106, 107, ..., 110, 111 Next>
Eskimo Recordings is a N.E.W.S. NV label.